Sample Selections – Blossom Express Fresh Cut Roses and Leis!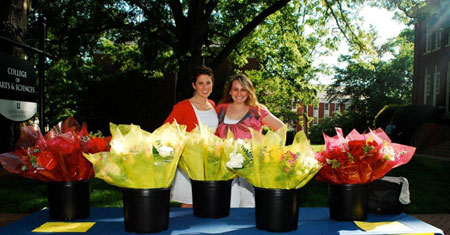 Click thumbnail to enlarge image:
[nggallery id=1]
Testimonials
"We love this company and
how everything works!"
~Mavissa, a Sorority in Pennsylvania
"Thank you for making me look
good in front of my boss!"
~Rachelle, a College Bookstore Buyer in Michigan
"Your service was excellent."
~Shannon, an Honor Society in Virginia
"I think you did an amazing job at explaining everything and being available for any questions."
~Sara, a Sorority in Wisconsin
"Our orders are promptly delivered
on schedule, and Lori has always taken the time to personally follow up to ensure that we were highly satisfied."
~Pam, Assistant Director of
Alumni Affairs
"We really appreciated your advice
and expertise regarding how many flowers we should sell at our ceremonies and the types of bouquets that would work the best."
~Sara, Student Alumni Ambassador
Co-Advisor

"Awesome! Thank-you!"
~Elizabeth, a Bookstore Manager in Maryland
Thank you for your help with
"The Hassle-Free Fundraiser of the Year."
~Jan, an Honor Society fundraiser at a University in Texas
"Blossom Express will surpass any expectations one has of raising money for his or her organization."
~Shellie, Honor Society fundraiser at a University in Texas
"I wanted to send you a personal thank you and commend you on the quality and professionalism of both your product, and the manner in which you do business."
~ Bob, an Honor Society fundraiser at a College in California
"Thank you for making this
incredible fundraiser possible!"
~Jessie, an Honor Society in North Carolina
"I thought your service
and product was great."
~Dick, Alumni at a University in Ohio
We Do Everything!
You just enjoy the bloomin' profits.